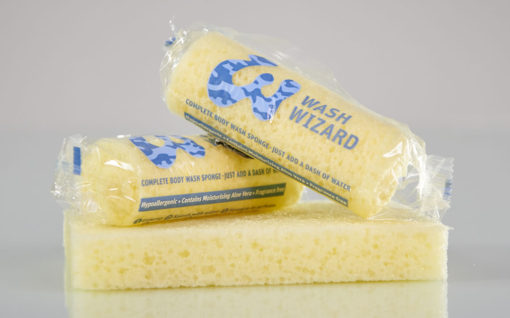 Wash Wizard Sponges
Here at One stop we love a good story behind a product / brand and that's why we have decided to stock the new range of Wash Wizard sponges.
Wash Wizard is the brainchild of Rosie Hooper, Sol O'Driscoll, Siam Tongson and Freddie Webb, four 17 year olds from the East Grinstead Area.
Says Rosie "Originally the sponges were used to wash patients in hospitals, and my mum had a couple lying around the house from ages ago. I showed them to the boys and we all agreed that they would be ideal to use at festivals and anywhere that you get dirty and don't have access to a shower. Because they're so small you can literally take them with you anywhere, in a pocket or handbag, so you always have a way of staying shower fresh without a shower."
The teens will be donating a percentage of their sales to The Connection at St. Martins – a homelessness charity based in central London.
New Wash Wizard is a complete body wash sponge. Just add a dash of water from your bottle, tap, river or well, squeeze to activate the aloe vera foam, and get washing. There's no need to rinse or grab a towel, the natural ingredients mean you can just air dry to get squeaky clean – it's magic!
So, if you're off to a festival, going camping, or travelling to the middle of nowhere with just a rucksack, wave goodbye to soap, towels and running water and say hello to Wash Wizard, the new way to shower without actually showering.
No more queuing at grim public showers with 500 other people, or, worse, discovering there are no showers. Liberate yourself from soap, towels and the need for running water, simply pack your Wash Wizard, safe in the knowledge that you can be shower fresh within minutes, wherever you are.
Wash Wizard is hypoallergenic and fragrance free, and completely green, once used simply recycle, including the packaging.
We will have the product in stock from March 2017 and look forward to helping these bunch of entrepreneurial youngsters achieve success ..