The Ultimate Guide To Camping In The Garden
You don't have to go far to sleep under the stars for a night! You can immerse yourself in the outdoors with our handy guide to camping, all from the comfort of your own home.
Camping In Your Back Garden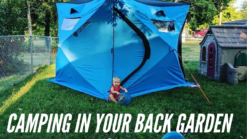 Whether you're a total beginner or have camped extensively over the years, camping in the backyard is a lot of fun for the whole family! You get to spend some quality time together, bonding with the children and having a good laugh in the process. And if this is the first time camping for your little ones, it's going to be a great test to give them a sense of how it's done and a great test for you to see if they'll enjoy it while still having the safety and convenience of having your home close by.
Camping in your own back garden has plenty of other advantages, such as saving time and money on preparation, packing, transport and making sure everything goes to plan. If you happened to be going on a camping trip somewhere in the world, you'd have to prepare accordingly, figure out how to pick out a campsite and make sure you've got everything you need ready. Camping in your back garden takes the weight off your shoulders and makes it easy. As there is no travel either, you can get to your own private campsite and set up much quicker than you would if you had to take the car to your destination. 
You will be much better off financially than you will be going on a big camping trip. As there's no driving involved, you can save some cash on petrol and maybe put it towards something cool for your outdoor camping experience like waterproof remote control lights strips for your tent. 
How To Camp In The Garden – The Best Way!
The best way to camp in the garden is to camp inside a Qube Tent. Organising a camping trip to your back garden may sound easy, but you could end up with some really bored kids ready to march back into the house, utterly disappointed with what they see. 
It's essential to keep things fun, exciting and unique. Make it something no one has done or seen before. 
Get yourself a Qube Tent!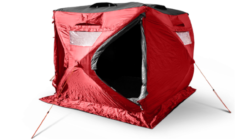 Advantages Of Qube Tents When Camping At Home
No Poles

Available in 5 Colours 

Sewn-In groundsheet 

Great ventilation 

And super easy to put up and takedown 
How To Make Your Camping At Home In The Garden Comfortable?
It's vital to get your garden campsite spot on. As many of us can't afford to go away on holiday this year and some campsites have remained closed, it's down to lovers of the outdoors to save the day with comfortable camping at home. 
As you are at home and but the tent will be the place you sleep at night, you should make it comfortable enough that no one has an excuse like being cold or uncomfortable so they can sneak back inside and get in their own bed! 
To get your Qube Tent nice and comfortable, some coordination will be needed. Set up your tent as you would at a typical campsite by finding a clean, flat surface on which to set up, once you have decided on a space you can get the entire family to work. If it is spreading out the flysheet or fitting together poles, everyone should pitch in!
Keep it extra comfortable by adding in some inflatable beds, sleeping bags, pillows, rugs and more. You could also hang some lamps or led lights up around the tent to illuminate your campsite and make it magical with a beautiful soft glow, making everyone feel more comfortable spending the night outside.
Cook Up Some Good Grub
Camping at home means you can cook up something good in the kitchen and carry it out for the family to enjoy but where's the fun in it? Eating around a campfire is one of the best parts of camping! Plus, a great chef knows that over an open flame there is no alternative for cooking, so get the grill out, get the hot dogs on and prepare a proper feast for you and your family. 
When the meals are done, and the plates are scraped, it's time for the classic, marshmallows, soft and sticky! Keep them over the grill for the perfect gooey bite, until they're golden brown. Or keep them roasting over the fire to suit your taste!
If you don't have a grill or fire pit, do it the old-fashioned way, and pack sandwiches and other snacks with some delicious treats thrown in there.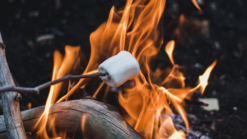 Keep The Kids Entertained
Like we said before, you run the risk of getting some bored kids on your hands without proper preparation, and no one wants that, so keep them occupied. Prepare for everyone to engage in a few games, so the kids stay entertained, and you get some valuable bonding time with them, and everybody wins! 
Here are a few ideas to keep them busy:
Build a fort using your Qube Tent
You can build the fortress of your dreams using a Qube tent as your base, decorate it with lights, blankets, camouflage or brightly coloured fabrics, hang up some bunting between the Qube's and use your imagination. You could even get the kids to make the bunting, pom poms and dream catchers to decorate with. It will be fun for everyone involved, and after the garden camping adventure is over, a well-built fort could stay up for a long time!
Run Races & Play Games
Play games in your back garden and run races to have an afternoon packed with fun. Set up your own little Olympics party, design an obstacle course in the backyard or have a beanbag toss, the possibilities are endless.
Organise a treasure hunt In Your Garden 
'It is essential to plan ahead with this one to hide the kids' clues and prizes. Let them work as a team to find the loot or pit them against each other to see who can find all the clues to win the reward! If you have a small family or you are a group of housemates, the same applies! 
Tell Stories Around A Campfire
You need a calm way to settle down and prepare to hit the hay after all that fun during the day. Gather the family to take turns telling the best spooky camping stories around the fire!
Set Up A Stargazing Area
Is there a better way to finish the day than staring up in silence at the great unknown? Stargazing is an excellent activity that everyone should get interested in. Let the children count the stars and draw the constellations above, create some creative background stories for them all and explore the cosmos, all from your back garden's comfort.
Send us the photos of you camping in the garden in one of our Qube Tents and get featured on our site!